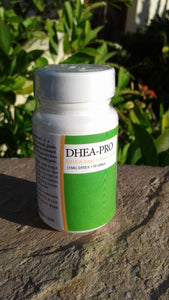 DHEA-MAX uses unique sustained release formulation for 24/7 energy release! Wholesale at $32/bottle
Regular price
$49.95
Sale price
$32.00
DHEA is the body's largest natural hormone responsible for vim and vigor energy throughout the body. Vigorous exercise is impossible without adequate physiological amounts of this hormone because through triage, it converts to other essential hormones such as cortisol, sex, and adrenal hormones when required by both body and brain. In young people, equal amounts of DHEA and cortisol are produced, but unfortunately, in older people both are often deficient. Thus, both need to be balanced in older people for more optimal health and energy. 
What distinguishes people who live to 100 years of age?
 According to the Gerontology Group, UCLA, in Los Angeles, almost all centenarians are female and under five feet tall. This basic fact correlates well with the fact that small dogs live much longer than large dogs, namely 15 to 17 years, as opposed to 9 to 11 years, respectively. Indeed the largest breed of dog, the Great Dame, often becomes grey at age 3 or 4 and dies on average at about age 7. In 2011, Professor KA Greer and collegues did a regression analysis and found that THE key hormone, IGF-1 in 144 domestic dogs correlated in an EXACT 1:1 ratio with the varying weight of dogs during aging.  Thus, at least in domestic dogs, high IGF-1 blood levels are critical in keeping death at bay during aging. Therefore, it's likely that the critical repair hormone IGF-1 is essential to long life in dogs and quite possibly humans. In Okinawa, 100-year-old women have double the level of testosterone and other hormones compared to 70-year-old American women.
Furthermore, I imagine that other key hormones and peptides from the pinal gland could be important in preventing premature death such as DHEA-Max,  Pregnenolone-Max,  SermMax andReleasingMax.
This special and preferred brand of DHEA called DHEA-MAX has been micronized for sustained released over a 24 hour period. This sustained release prevents overdosing by patients who often mistakenly consume 25 or 50 mg bolus (all at once), and subsequently, are deficient hours later when DHEA becomes fully metabolized. Thus, sustained release administration is preferred by those knowledgeable in anti-aging medicine.
It is formulated in a lipid matrix to bypass the liver and micronized to a particle size of fewer than 50 microns for optimal absorption. This product is soy free  and sourced from– wild yams that have not been irradiated nor ethylene-oxide treated. For general metabolic information about DHEA please view the following video: http://www.agingforexpert.eu/blog/dhea
For more medical information, log on below. Skip ahead to 18 minutes and hear a prominent European medical doctor explain the immunity benefits of thymosin alpha one, DHEA (DHEA-MAX), cortisol and thyroid hormones. According to this medical doctor, thymosin alpha one  or ThymosinMax™ improves immunity by a resounding 68% !
https://youtu.be/9eiBEpAa5fo
_____________________________________________

Suggested Use: As a dietary supplement, for women ½ to 1 tablet per day; for men 1 tablet one or two times per day; or as directed by a healthcare professional.
| | |
| --- | --- |
| Serving Size | 1 scored tablet |
| Servings per container | 60 |
| Amount per serving: |   |
| DHEA | 15 mg |
Other ingredients: Microcrystalline cellulose, Micosolle®, vegetable oil, vegetable wax, Cab-o-sil®, magnesium stearate, vitamin E.
Variations in product color may occur. Keep in a cool, dry place, tightly capped.
 WARNING: NOT FOR USE BY INDIVIDUALS UNDER THE AGE OF 18 YEARS. DO NOT USE IF PREGNANT OR NURSING. Consult a physician or licensed qualified health care professional before using this product if you have, or have a family history of, prostate cancer, prostate enlargement, heart disease, low "good" cholesterol (HDL), or if you are using any other dietary supplement, prescription drug, or over-the-counter drug. Do not exceed recommended serving. Exceeding recommended serving may cause serious adverse health effects. Possible side effects include acne, hair loss, hair growth on the face (in women), aggressiveness, irritability, and increased levels of estrogen. Discontinue use and call a physician or licensed qualified health care professional immediately if you experience rapid heartbeat, dizziness, blurred vision, or other similar symptoms. KEEP OUT OF REACH OF CHILDREN. Do not use DHEA if you are at risk for or have been diagnosed as having any type of hormonal cancer, such as prostate or breast cancer. 
*This statement has not been evaluated by the U.S. Food and Drug Administration. The product is not intended to diagnose, treat, cure, or prevent any disease.